Binance introduces a new project on the Binance Launchpool: Hashflow. This platform allows you to exchange tokens on different blockchains without the need to use a bridge. How to participate in this operation to receive HFT tokens
Hashflow lands on Binance Launchpool
For the 31st time, the Binance platform introduces a new project through Binance Launchpool: Hashflow (HFT). With Binance Launchpool, users of the exchange simply have to stake BNB and/or BUSD in order to receive tokens from the featured project, in this case HFT.
Binance users will be able to stake their BNB and BUSD tokens in separate pools in order to harvest HFT tokens over a 30 day period. The pools will open on the night of 31 October to 1 November at 01:00 Paris time.
Then, on November 7 at 2pm Paris time, Binance will list the HFT token and open trading with the following pairs:
HFT/BTC ;
HFT/BUSD ;
HFT/USDT.
In total, during this operation, 15 million HFT tokens will be distributed to Binance users who have staked BNB and BUSD. BNB stakers will share 12 million tokens, while the remaining 3 million will be distributed to BUSD stakers.
How to participate in this event
This event is open to all Binance users. To participate, simply go to the "Earn" tab, click on "Launchpad" and select "Hashflow" in the "Launchpool" category. Note that it will only be possible to deposit your BNBs and BUSDs into the pools once the event has started.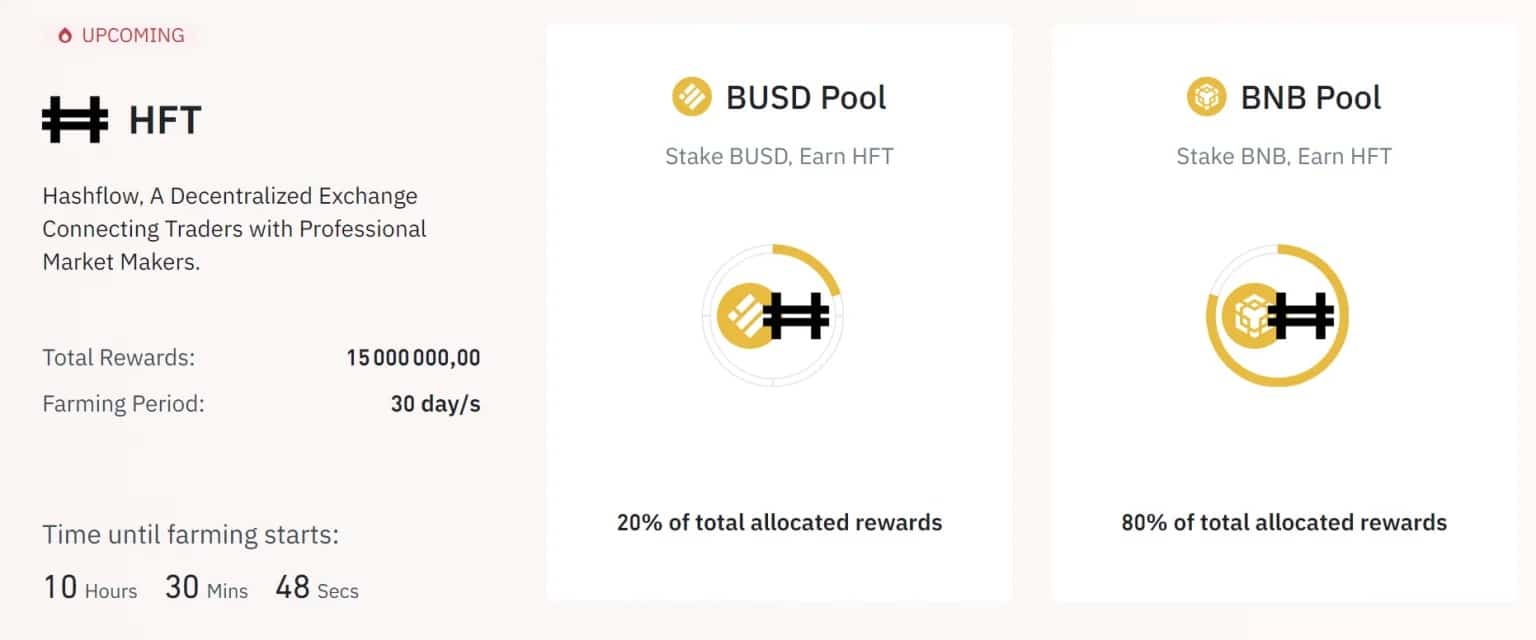 Next, captures of your balance and total pool balances will be taken every hour to calculate the HFT token rewards to be distributed. You can then collect your HFT tokens directly from your spot wallet.
Of course, you will receive an amount of HFT tokens in proportion to your contribution to the pool. Those who store the most tokens will receive more HFT tokens
What is Hashflow (HFT)
Hashflow is a decentralised protocol focused on interoperability. The platform is currently compatible with the Ethereum, BNB Chain, Polygon, Avalanche, Arbitrum and Optimism blockchains.
Hashflow's strength lies in the fact that its users can exchange cryptocurrencies between multiple blockchains, without going through external bridges.
Other significant advantages of Hashflow are that all transactions are commission-free and all token exchanges are executed at their posted price (no slippage).
As far as HFT is concerned, it is the native token of the Hashflow protocol and the Hashverse, the gamified governance platform of this ecosystem. Holders of HFT tokens will be able to stake them to access additional features on Hashflow: participation in governance and eligibility for various rewards in particular.