Cardashift (CLAP), a platform based on the Cardano blockchain (ADA), has announced the official launch of its community launchpad. From 11 May 2022, as part of Batch Genesis, each citizen-investor will be able to vote from a list of 10 projects with real ambition in terms of environmental and/or social impact.
Cardashift (CLAP) officially launches its launchpad
Cardashift (CLAP) today announced the launch of its community launchpad, a service to help launch and fund ambitious new social and environmental projects. This is accompanied by the Batch Genesis programme, the very first batch of projects selected for the Cardashift Launchpad.
In a nutshell, Cardashift is a community platform based on the Cardano blockchain (ADA). It offers a variety of products, tools and services to give impact projects all the keys to realise their visions. This includes financing bricks, but also acceleration capabilities.
" Cardashift, through an ecosystem of products and services developed on Cardano, wants to enable every citizen-investor to build the world of tomorrow "
Cardashift relies on its own utility token, the CLAP, to ensure the sustainability of the ecosystem and to fuel the development of the platform. Successfully completed in early 2022, CLAP's Initial Coin Offering (ICO) enabled Cardashift to raise $10 million.
Thanks to its governance token, Cardashift wants to put citizenship back into investment. By directly involving its community through a voting system, Cardashift intends to move towards a decentralised selection mode highlighting ambitious projects on impact with a message that has a real impact on the community of citizen-investors. In addition, participants will also have the opportunity to invest in the projects in question in advance.
All about the Cardashift Batch Genesis
The Batch Genesis programme is the first wave of projects selected for the Cardashift launchpad. Following the opening of applications last March, more than 250 impact projects applied. Only 10 projects have been selected and will be submitted for your vote.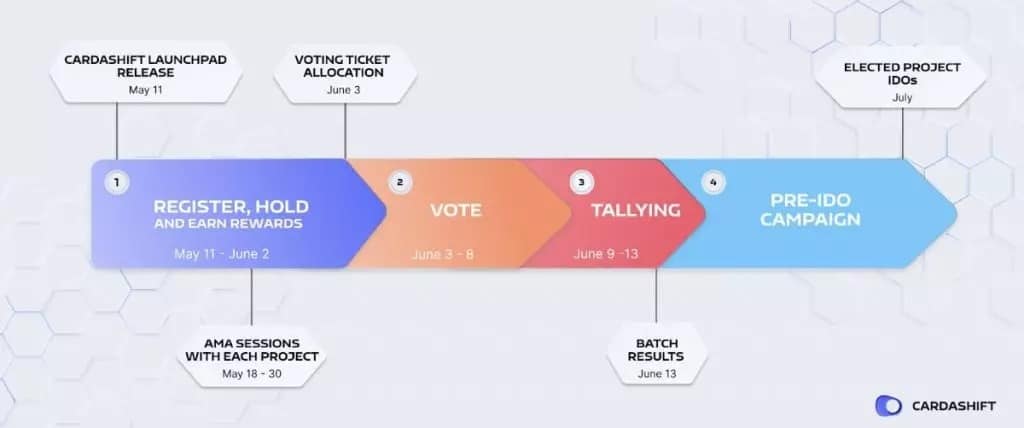 The registration phase
The first stage of this programme is the registration period. From today until June 2nd, you can register to vote for your favourite project directly via Cardashift. Your voting power will depend on the number of CLAPs you have during the registration period.
In addition, Cardashift wishes to enhance the participation of the Cardano ecosystem in the democratic selection process. Firstly, by offering an annualised return of 30% for the CLAP holding over the registration and voting period. Secondly, by offering 10 voting tickets to all Cardano wallet holders (e.g. Nami or Flint), even if they do not have ADA and/or CLAP tokens.
However, it is strongly advised to find out more about each project before voting for it or investing funds in it. To this end, Cardashift is organising an event called Cardashift Demo Day where each project will be presented by its founders. It will be held on May 16th at 7pm, and will be freely available on their YouTube channel
The voting phase
From June 3rd to June 8th, the voting phase will take place. Users will receive the voting tickets they accumulated during the preparation phase and will be able to vote for their favourite projects. To be selected, projects must receive at least 10% of all votes and 10% of all voters.
With this double threshold, Cardashift makes sure that the choice of a few big players does not decide the outcome of the vote alone. The projects of the batch have the ambition to participate in the construction of tomorrow's world, so it is essential for Cardashift that the largest number of people are heard.
The results will be officially announced on 13 June. This will be followed by the Initial DEX Offering (IDO) period, during which users will be able to finance projects.
In the long term, Cardashift aims to become a true protocol dedicated to impact, allowing any social and/or environmental project to benefit from the financing and acceleration bricks necessary for its development. CLAP holders would have a key governance role, notably in the integration of new partners, the implementation of lending solutions for emerging countries, or the development of impact monetization.
favourable, but are still far from the necessary 10% quorum.