Yesterday was a red day for US equity markets, while cryptocurrency prices are showing some signs of life this week. Is this the beginning of the stock-crypto decorrelation? We take stock.
US stocks uniformly in the red yesterday
In yesterday alone, US stocks saw $860 billion soar, with consequent falls. Amazon (AMZN) lost -4.75%, Alphabet (GOOG) plunged -3.74% and Apple (AAPL) -3.70% :
JUST IN: Over $860 billion was wiped out from the US stock market today. pic.twitter.com/IqFNv4qFxG

– Watcher.Guru (@WatcherGuru) November 2, 2022
The markets reacted to Jerome Powell's announcement. The President of the Federal Reserve announced yesterday that the Central Bank was raising rates to their highest level in fifteen years. It also plans to continue to raise them, which is rekindling fears of a recession.
This has a direct effect on the stock markets. At the close yesterday, the Dow Jones was down 1.55% and the NASDAQ was down 3.39%. But Captain Powell remained firm: for him, the US economy is not yet in a recession.
"[A recession] is a broad-based decline across multiple industries that is sustained for more than two to three months. This is not like what is happening now. "
An analysis that is of course debatable, but shows that the Fed is on edge, facing a macroeconomic situation that is anything but calm.
Cryptocurrencies (finally) decoupled
While the Fed chairman has pulled out the oars, and equity markets have reacted particularly negatively, this is not the case for crypto-currencies. This week, the price of Bitcoin (BTC) seems determined to break through the psychological threshold of $20,000 for good. This is the beginning of a decorrelation…
If we look at the correlation of BTC and Ether (ETH) with specific stocks, we see that the ratio has dropped, sharply for some. As a reminder, a ratio of 1 indicates a perfect correlation. Conversely, a negative ratio indicates a distance :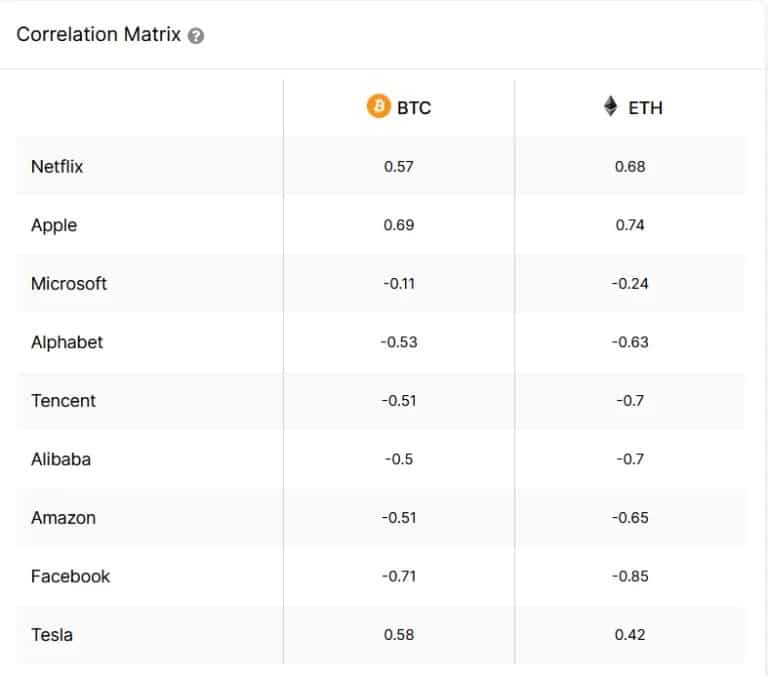 Why is this possible correlation being observed so much? Because it's about the value proposition carried by cryptocurrencies. That is, offering assets not tied to traditional markets. In reality, it has historically been more complicated than that. In recent years in particular, Bitcoin and equities have tended to move in tandem, with cryptocurrencies falling when equity markets plunged.
Cryptocurrencies no longer move in tandem with stocks
But that would be changing, according to several analysts. Yesterday's plunge tends to confirm this, in addition to a certain cultural change in the ecosystem. This is at least what analyst Simon Peters suggested to The Motley Fool:
The proportion of wealth held in coins that have moved in the last three months is now at an all-time low. […] Wealth held in rooms that have not moved for more than three months is now at a record high. "
The "HOLD" seems to dominate. The reason is that the fall of Bitcoin has "purged" holders who were inclined to sell. Apart from miners, investors are generally not interested in selling at this price level. This means that they are holding on to their BTC even though the equity markets may fall.
Will we then see the advent of cryptocurrencies as a store of value against falling stocks? It's still far from confirmed, but the events of this week show that the scenario is possible.