Stripe, the US payment solutions giant, has launched its fiat-to-crypto on-ramp solution to enable Web3 businesses to provide an easy option for their customers to purchase cryptocurrencies. The solution aims to accelerate Web3 adoption and has already been adopted by companies such as social network Lens, DeFi protocol 1inch and browser Brave.
Stripe continues to embrace Web3 and cryptocurrencies
Stripe, the giant in payment solutions for professionals in the United States, has introduced its fiat-to-crypto on-ramp solution to enable them to offer a fast, reliable and simplified solution to their customers.
This solution has a dual advantage, as it will enable customers of platforms adopting this solution to open up to Web3 and cryptocurrencies thanks to a window enabling them to exchange fiat money for cryptocurrency in a matter of moments.
Secondly, the solution has been designed to be easily integrated with just a few lines of code. As a result, companies wishing to benefit from it can add this widget without complications.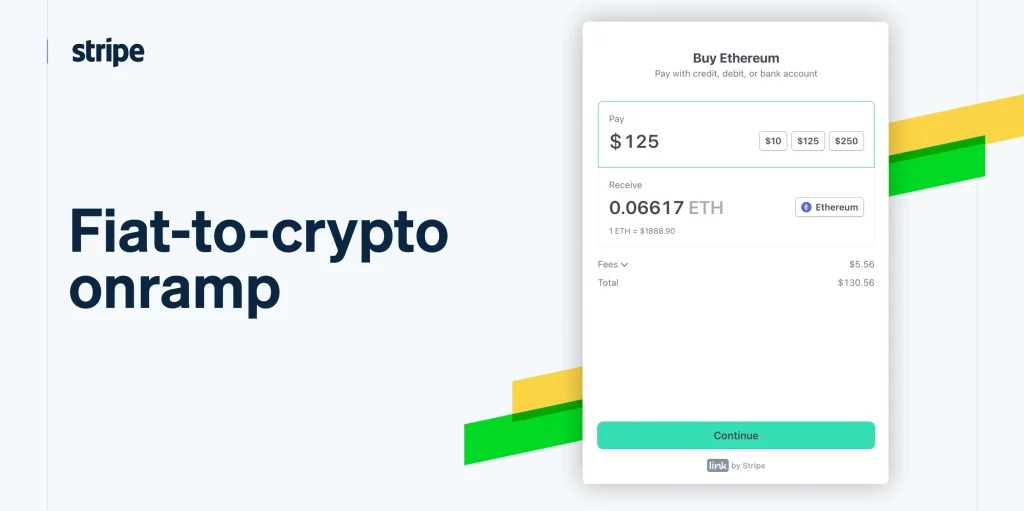 According to the press release, the solution here developed by Stripe aims to enable platform customers to buy cryptocurrency instantly in order to make purchases on the relevant sites, such as non-fungible tokens (NFT). In addition, the widget incorporates anti-fraud tools such as the famous Know Your Customer (KYC) process.
A solution that will undoubtedly make life easier for Web3 businesses, while enabling Web3 to be adopted by a wider audience, as Guillaume Poncin, Head of Crypto Engineering at Stripe, points out:
"With our on-ramp options, Web3 businesses can now outsource a number of very important but sensitive elements to Stripe, such as conversion and authentication optimization, identity verification, fraud prevention, and so on. This allows companies to focus on what's unique to their business, and help their customers start using Web3 services quickly and securely. "
Accelerate Web3 adoption
With Link's integration, customers using this solution will only need to enter their payment information and contact details once. The payment information will then be saved and customers will be able to take advantage of this payment solution at all partners using Link.
This solution has already been adopted by Lens, the social network developed by Aave's teams. Its founder, Stani Kulechov, praised the merits of this new fiat-to-crypto tool:
We are delighted to welcome Stripe to LensFrens to reduce payment friction and encourage content monetisation. By adding this payment functionality, users can easily collect their favourite content and support the creators they admire. "
Aside from Lens, the Brave browser has also chosen Stripe to purchase cryptocurrencies from its native wallet. Decentralised finance protocol (DeFi) 1inch has also adopted the solution, an opportunity for its co-founder Sergej Kunz to highlight the importance of "building bridges between Web2 and Web3".