Following rumours of insolvency of the trading company Alameda Research, Binance through CZ announced to sell several tens of millions of FTT, the token of the FTX platform founded by Sam Bankman-Fried. Let's look at the details of this deal
Massive FTT sale
Changpeng Zhao, founder and CEO of Binance, announced to sell the remaining FTTs following the sale of Binance's stake in FTX. Binance had participated in a strategic investment in FTX in December 2019 and sold its shares for USD 2.1 billion in BUSD and FTT. In order to limit the impact of these sales on the market, CZ announced that it would spread the sales over several months.
Yesterday, a transfer of over 20 million FTT, or $530 million at the time of the event, was made. It is highly likely that this transfer was made by Binance to sell its FTT. A few hours later, the price of the FTT token fell by almost 10%.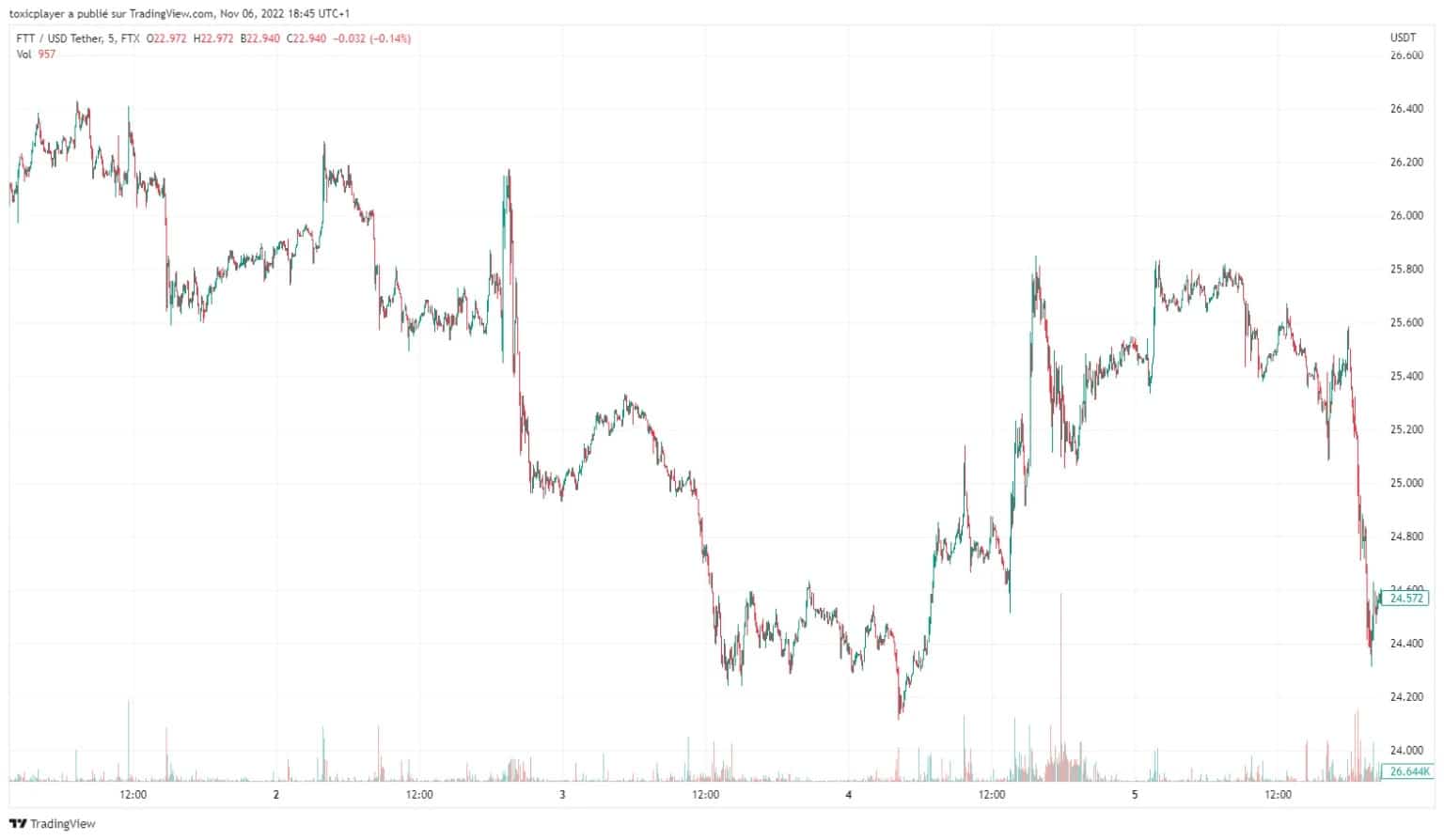 A disturbing report?
This sale comes amid rumours that Alameda Research is insolvent.
These rumours come in the wake of a Coindesk report published on November 2 which indicates that the majority of funds held by the trading company Alameda Research are FTTs, the token of the FTX platform.
Both companies (FTX and Alameda Research) are owned by Sam Bankman Fried (SBF).
Thus, it is possible that the trading company Alameda Research could be insolvent in the event of a sharp drop in the price of FTT as was the case with Celsius.
The report reveals that Sam Bankman-Fried's trading company had $14.6 billion in assets in June 2022, broken down as follows:
$5.8 billion in FTT;
$1.2 billion in SOL;
$3.37 billion in unidentified cryptos;
$2 billion in corporate investments;
Another $2 billion in assets could not be identified.
According to another source, hundreds of millions of dollars are also held in tokens from the Solana ecosystem such as Serum, Oxygen, MAPS or FIDA. All projects linked to FTX and its founder SBF.
Alameda would therefore hold more than 100% of the FTT tokens currently in circulation as the market cap of the FTX token is just over $3 billion according to CoinGecko data.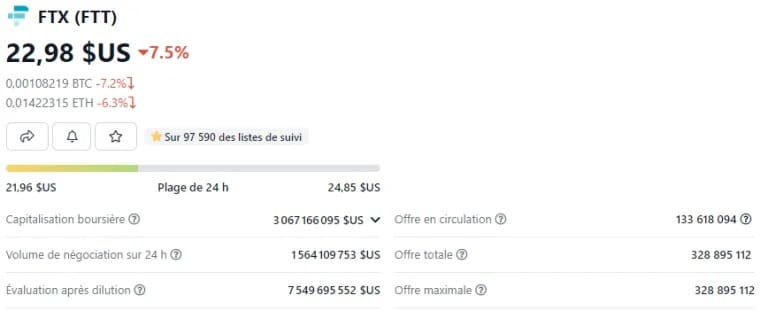 FTX and Alameda strike back
Caroline Ellison, CEO of Alameda Research, said on her Twitter account that more than ten billion in assets were not included in the balance sheet accessed by Coindesk, which was only part of the company's overall balance sheet
A few notes on the balance sheet info that has been circulating recently:
– that specific balance sheet is for a subset of our corporate entities, we have ☻ $10b of assets that aren't reflected there

– Caroline (@carolinecapital) November 6, 2022
FTX's token price has been on a rollercoaster ride for the past few hours, bouncing up and down on various announcements.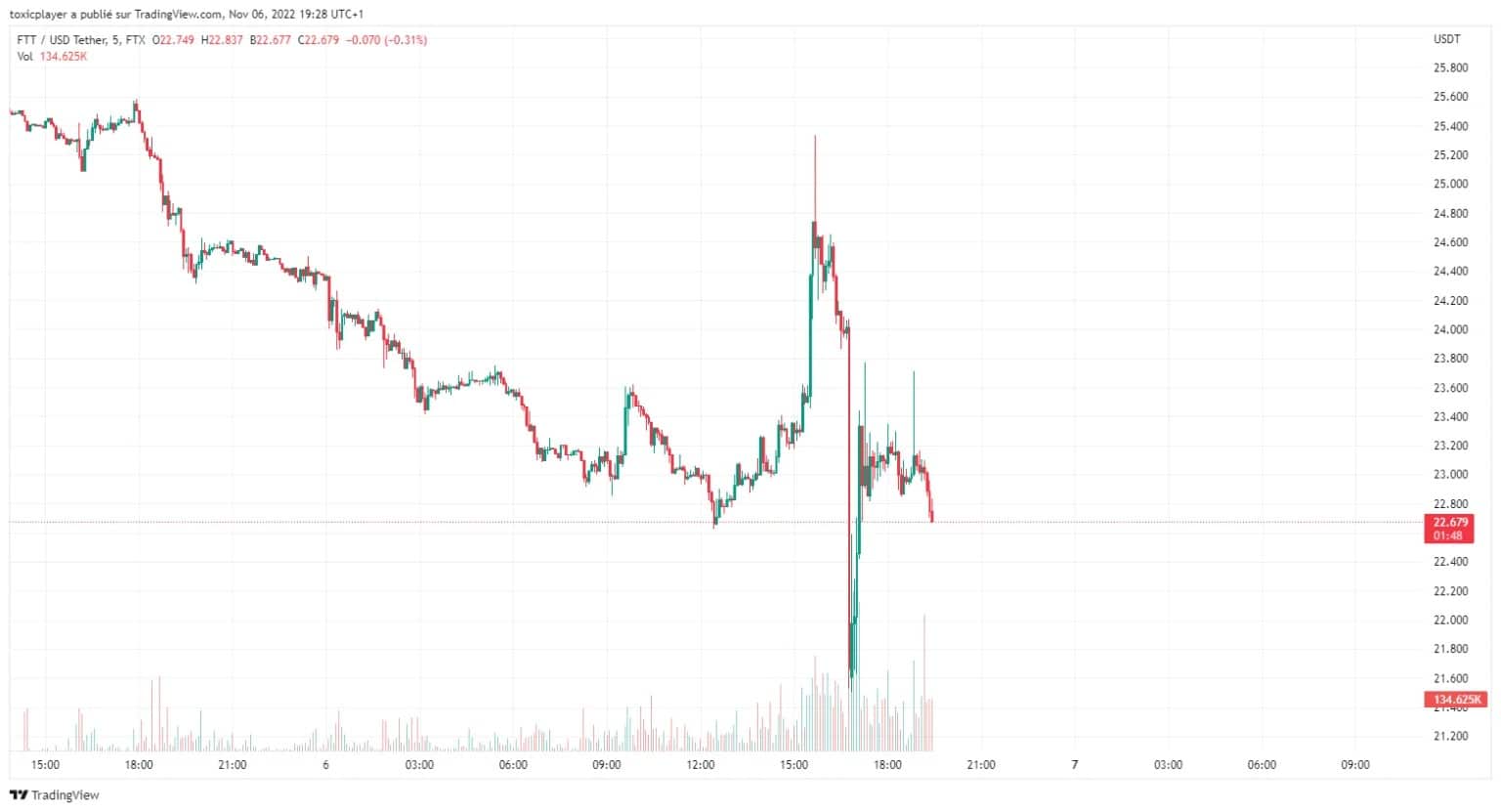 Following CZ's statements, the CEO of Alameda Research responds and offers to buy back all the FTTs sold by Binance at $22 per unit. Probably to reassure investors and support the price of the token
@cz_binance if you're looking to minimize the market impact on your FTT sales, Alameda will happily buy it all from you today at $22!

– Caroline (@carolinecapital) November 6, 2022
However, according to an analysis by Lookonchain, Alameda and FTX have "only" $300 million in stablecoin, which could not absorb the sale of 22 million FTTs at the current price.
According to the same analysis, nearly 98% of FTT tokens are held by 50 addresses and Alameda and FTX would own 74.51% of the total existing FTTs, or 245 million FTTs.