Bitstack, a French start-up specialising in Bitcoin (BTC) savings, has announced that it has raised €2 million in a second round of funding. The funding will allow the start-up to strengthen its team and develop new services to facilitate investment in Bitcoin, such as a virtual IBAN and a Bitstack debit card that can be used to pay in euros or BTC at all merchants.
Bitstack raises €2 million and expands its catalogue
About a year after raising €1 million in its first round of funding, French start-up Bitstack has raised €2 million to continue its mission of democratizing Bitcoin (BTC) savings
As with the first round, this round was led by Founders Future and included a number of participants such as Y Combinator, Kima Ventures, Goodwater Capital, FoundersX Ventures, Soma Capital and Lightning Ventures.
A fundraising that materializes the success of Bitcoin savings embodied by Bitstack, as most households are looking more than ever to diversify their investments and find a way to circumvent inflation. Indeed, as Alexandre Roubaud, Bistack's CEO, points out, the statistics observed show a growing adoption by the French:
50% of Bitstack users are first-time Bitcoin buyers, which reveals the adoption of Bitcoin by the French. 94% want to keep their Bitcoins for more than 3 years and 29% for more than 10 years, reflecting a long-term conviction. "
Thus, since the beginning of this year and while confidence in the banking system has never been so much in question, Bitstack has recorded a record volume of new savers and has seen its number of active users increase by more than 20% per month.
A range of new services
Launched on the App Store and Google Play in July 2022, the Bitstack app makes saving in Bitcoin simple, fun and above all painless. This is made possible thanks to the mechanism of rounding up expenses to the next euro, which allows you to invest in BTC on a regular basis without even thinking about it.
For example, a coffee bought for €2.60 is rounded up to €3.00 and the €0.40 difference is automatically invested in Bitcoin. This method allows you to gain exposure to the king of crypto-currencies via the tried and tested Dollar Cost Averaging (DCA) strategy, which smoothes out the volatility of BTC over the long term.
In addition, Bistack allows you to buy Bitcoin directly from its mobile app and set up a personalized recurring savings plan.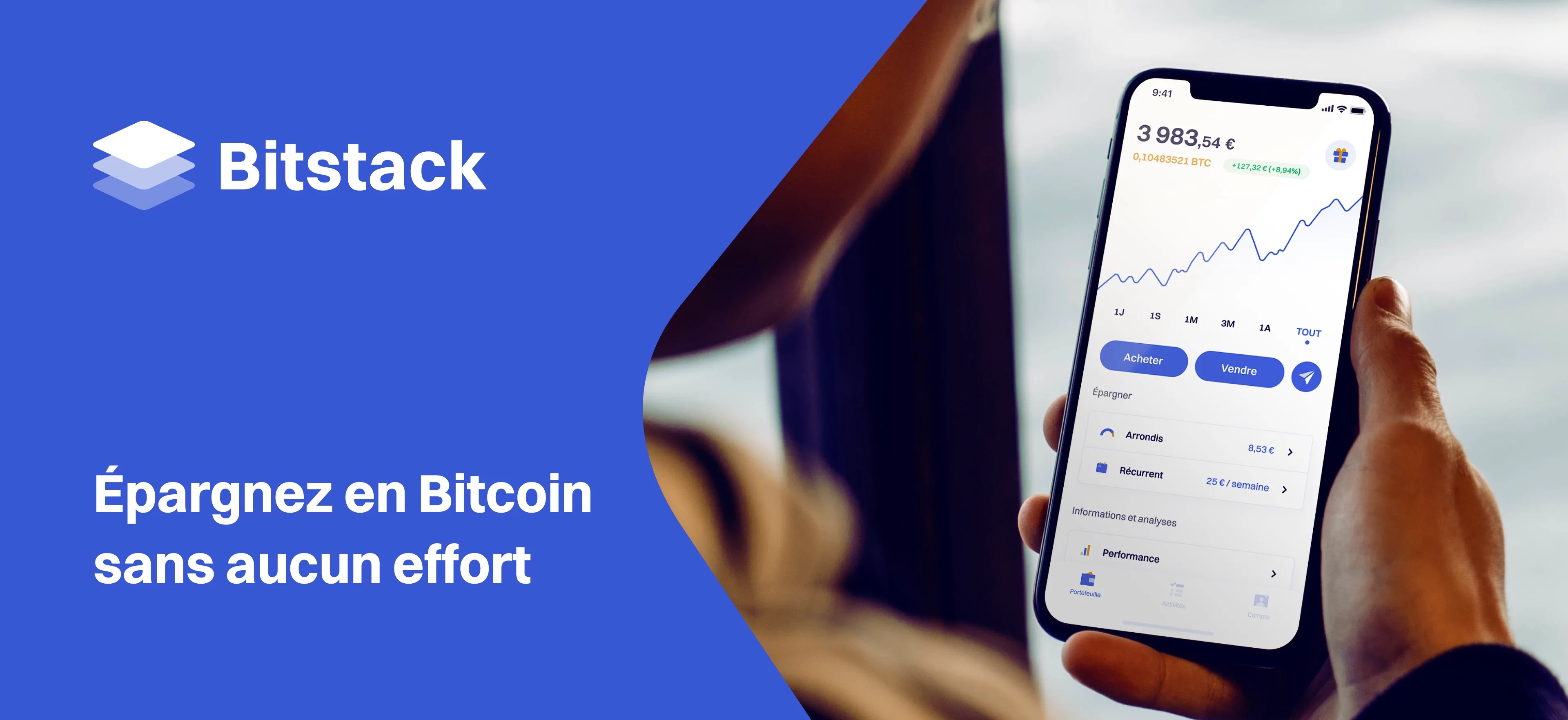 This fundraising will allow Bistack to continue to work in this direction, on the one hand by strengthening its teams, but also by deploying new services. For example, Bitstack users will now have a virtual IBAN allowing them to deposit their salary and automate their investment in Bitcoin. In addition, Bitstack will also allow users to send and receive BTC between friends.
But the major news is the arrival of a Bitstack debit card for the end of 2023, which will allow anyone to pay in either euros or BTC, and this at all merchants. As of today, you can register on the pre-registration list in order to, perhaps, benefit from this totally free card.
A further step towards the democratisation of Bitcoin, as Alexandre Roubaud points out: "
".
Our ambition is to give the French a new way to manage their money. At Bitstack, we believe that finance can be different, more accessible, more transparent and fairer thanks to Bitcoin. With the launch of our new financial services and debit card, we continue our mission to democratise bitcoin to create a more open financial system."