Last night at 11.40pm, the price of Bitcoin (BTC) plummeted in just a few minutes, significantly affecting the cryptocurrency market. What could be the causes behind this high volatility?
Bitcoin falls sharply before bouncing back
On 17 August 2023 at 11:41pm Paris time, the price of Bitcoin (BTC) began a rapid decline. In the space of just 4 minutes, the price of the cryptocurrency fell by almost 6%, from $27,770 to $26,000 on the Binance platform.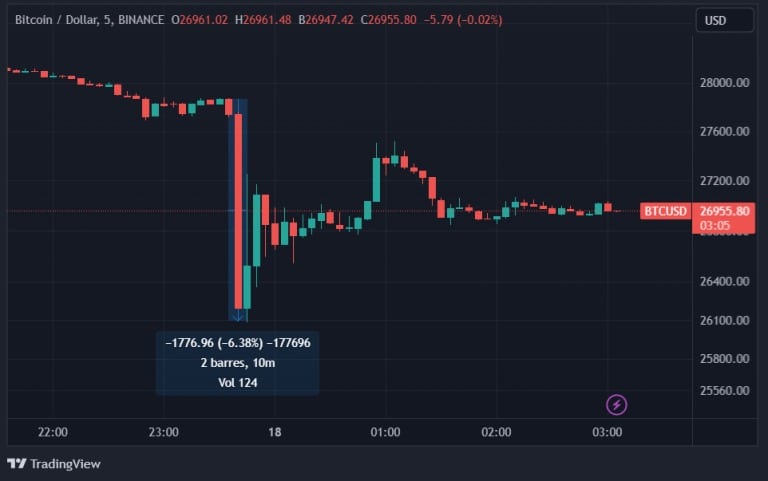 Unsurprisingly, this fall in the price of Bitcoin has had repercussions for the entire market, with almost all other cryptos suffering a similar fall. In fact, this has caused the total capitalisation of cryptocurrencies to fall by almost $50 billion.
On the futures markets, this led to a cascade of liquidations of more than $1 billion, the vast majority on the OKX, Deribit and Binance platforms:

Despite this sudden fall, the Bitcoin price has rebounded and is almost back to where it was before the fall. A situation like this, i.e. a particularly violent and rapid fall, is often explained by negative news for the industry. So what happened
?
What could be the reasons for this drop in cryptos?
Although Bitcoin remained on a downward slope for most of the day on 17 August, the biggest drop was seen after the bankruptcy announcement of Evergrande, China's 2nd largest property developer.
The company has now been placed under bankruptcy protection in the United States, and this has rekindled market concerns about the potential impact of Evergrande's collapse on other parts of the global economy.
At the same time, the Wall Street Journal revealed that SpaceX had sold around $373 million worth of Bitcoin. Elon Musk's company recorded BTC holdings in its 2021 and 2022 financial statements, but has since sold its assets.
Although still only a rumour, this information may have put downward pressure on the Bitcoin price on 17 August 2023.
In any case, these two events alone cannot explain Bitcoin's fall with certainty, but they probably contributed to it.
Do you think the Bitcoin price will continue to fall? TCN Research's analysts, including Vincent Ganne, will be able to tell you more about the current macroeconomic situation and its possible impact on the cryptocurrency industry.